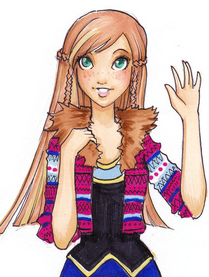 Anna Fryst
is a Junior at Disney High.
Information
Edit
Anna Fryst is the sister of Elsa Fryst. They both attend D-High, but take different classes. They share a somewhat rocky relationship due to Elsa always giving Anna "The Cold Shoulder". She is very peppy, outgoing, and friendly towards everyone she meets.
Ad blocker interference detected!
Wikia is a free-to-use site that makes money from advertising. We have a modified experience for viewers using ad blockers

Wikia is not accessible if you've made further modifications. Remove the custom ad blocker rule(s) and the page will load as expected.