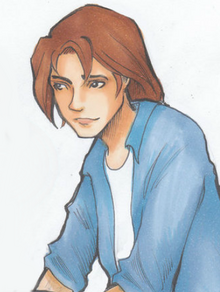 Eugene "Flynn" Fitzherbert
is a Junior at Disney High.
Information
Edit
Eugene is a kind but arrogant student, who does things for himself first, rather than firstly for others. He was the first student that Rapunzel Moore met, when she first arrived at D-High. He doesn't seem to have many friends on campus, and doesn't like to talk about his home life. 
Note: Possible connection with theft of school trophies from trophy case.
Ad blocker interference detected!
Wikia is a free-to-use site that makes money from advertising. We have a modified experience for viewers using ad blockers

Wikia is not accessible if you've made further modifications. Remove the custom ad blocker rule(s) and the page will load as expected.