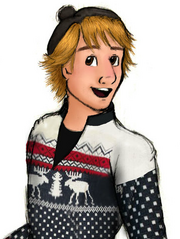 Kristoff Bjorgman
is a Senior at Disney High.
Information
Edit
Kristoff is a slacker, and is prone to skipping classes. In his spare time, he works in his family's ice cream store, along with his dog Sven. He appears to have a crush on Anna Fryst, and seems to think the two are dating, even if Anna denies it. While a little sure of himself, Kristoff is a very jovial and kind person, but usually does everything on his own terms.
Ad blocker interference detected!
Wikia is a free-to-use site that makes money from advertising. We have a modified experience for viewers using ad blockers

Wikia is not accessible if you've made further modifications. Remove the custom ad blocker rule(s) and the page will load as expected.